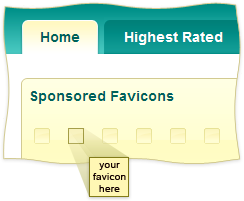 Sponsor a Favicon
To increase the exposure for your favicon, we encourage you to sponsor it. Sponsored favicons are displayed in a highlighted area at the top of all listing pages and receive maximum exposure.
When you sponsor a favicon it will take one of the sponsored slots. After the sponsored period ends the favicon will appear back in the regular favicon lists.
Rate
The current rate for sponsoring a favicon is $6/month (30 days).
Getting started
I would like to sponsor a favicon